Tactical Urbanism is the process of transforming cities and reviving unused or underused spaces in a city. The transformed spaces cater for the needs of people rather than providing more space for automobiles.
The first part of the two part Tactical Urbanism webinar held on 18 Feb. 2020 was jointly presented by the World Resources Institute (WRI – India) and the Wuppertal Institute. The webinar was a part of the Urban Pathways project, funded by the German Federal government through the International Climate Initiative. The webinar also featured a practical implementation experience from Coimbatore, Tamil Nadu, India.
More than 70 participants joined the webinar and actively engaged with the presenters through questions and feedback in the form of polls during the webinar.
The participants of the webinar also participated in polls and some of the results are as follows: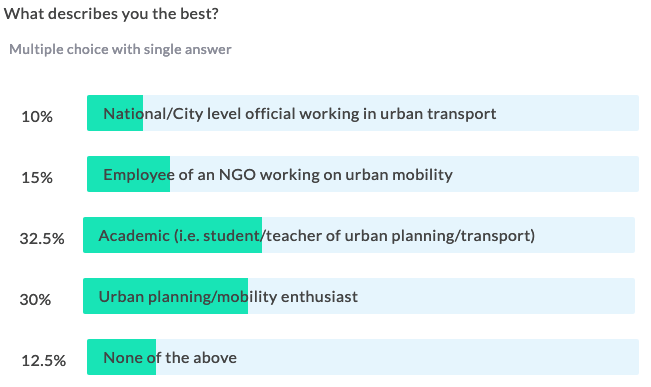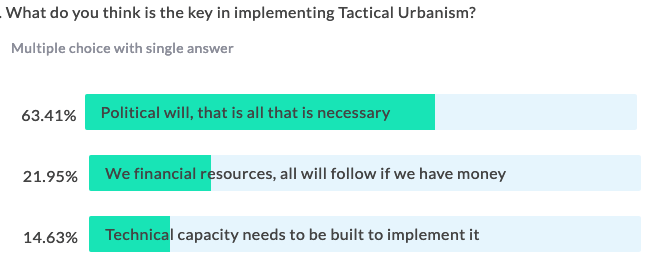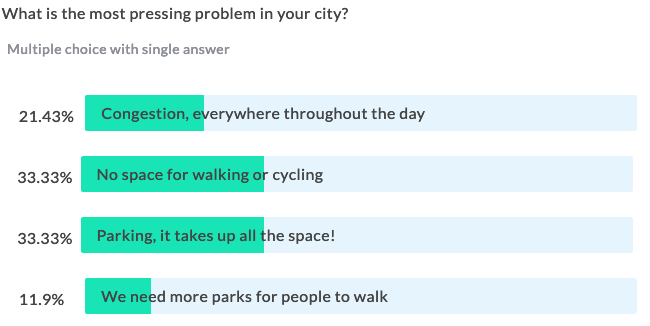 The presenters: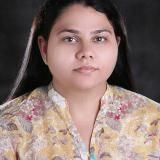 Lead – Urban Development, WRI – India
Prerna is the Lead of Urban Development at the WRI India and her work lies in connecting urban planning and sustainable transport. She has more than a decade of experience on projects related to Transit Oriented Development, Land Value capture, Neighbourhood improvement plans and informing design approach of large developments for adopting sustainable planning and capacity building.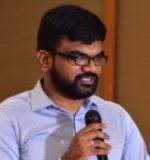 Ranjit Parvathapuram
Urban Transport Expert, Coimbatore, India, GIZ SMART SUT Project, GFA
Ranjith is a Transport planner by profession, presently working as Urban transport expert in Coimbatore under GIZ SMART SUT project. Ranjith actively involves in promoting low carbon mobility in Indian cities. He strongly believes in prioritizing NMT over any other modes and he feels without this the whole urban mobility concept has a weakness.
The presentations

Creating liveable cities through an inclusive approach by Prerna Mehta,


Short term action to long term change – Tactical Urbanism on Big bazaar street of Coimbatore, Tamil Nadu, India by Ranjit Parvathapuram
Questions to the speakers and their responses:
There is a marked difference between the both. Gentrification is a process where the poor or low income group is pushed away from an area and more effluent income groups occupy that area. In other words, it is essentially the process of changing the character of a neighborhood through the influx of more affluent residents and businesses.
In our experience they have quite an impact. The drivers are able to recognize them and abide by the required measure.
You walk the talk. Show them how it works through 1 minute videos, well documented examples, find champions in the city who can help inform elected representatives. One can also arrange study tours for showing operations of successful examples.
The tactical urbanism interventions caters to the needs of all users as it focuses to create safe, accessible and usable spaces. For example there are several cities in India that are working to improve the road junctions for all user groups through temporary tactical solutions and eventually moving to permanent remedies post testing the on ground impact. Initiative like Haryan Vision Zero, Mumbai Vision Zero, Pocket parks initiatives are few examples.
Tactical urbanism is one of the tools that can be used to better slum environments especially when it comes to urban spaces and street networks. It can inform the residents on how they can improve their surroundings and minimize the heat island effects. The ingredients of tactical urbanism can be applied to slum establishments. The shelters can be integrated within but must ensure that the element of safety & security is built in.
Cost was about 1.2 million rupees (about 15000 Euros). Paint is acrylic distemper. For temporary intervention dont use thermo plast. For permanent installations use thermoplast.
Metrics can be quantitative or qualitative and will depend on the type of the project. Quantitative are hard numbers from a before and after scenario. E.g. how did the safety characteristics change because of the intervention, How do children travel in these spaces, Improvements/interventions for people with special needs thus making it more inclusive, Change in footfall of users, reduction in total number of fatalities,
Qualitative aspects – quality of life, variety of users, sense of safety, – perceptions etc.
In this part, we will dive into the details on how to implement tactical urbanism backed with relevant case studies and much more content that we will add based on your inputs. The presenters will be:
Rajeev Malagi, WRI India
Maria Rosa Muñoz B., Wuppertal Institute
Moses Kuiyaki, Nairobi County, Kenya
Register here and get your place: https://register.gotowebinar.com/register/1023266398479557389
If you have questions or queries, please do not hesitate to contact us: contact@nuacampus.org
Additional Information
You might also be interested in our following Factsheets related to the topic:
[wpdm_package id='2301′]
[wpdm_package id='2298′]