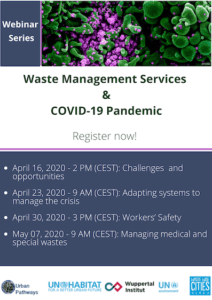 While the current COVID-19 pandemic is rapidly spreading in some countries, thus intensifying its impact upon the world's healthcare systems and economy, it starts to slowly decrease in other countries. During this time, ensuring reliable and safe municipal solid waste management (MSWM) services provision is a must for all local governments to protect public health and contain the spread of the virus.
Already before COVID-19, 2 billion people worldwide were lacking access to waste collection and 3 billion to controlled waste disposal. Ensuring waste collection for everyone is even more pressing during this health challenge. However, many waste management operators or local governments lack experience, technical knowledge and financial resources to ensure the safety of their workers. Furthermore, countless informal workers are meeting their daily ends by picking up and selling recyclables from the waste stream. These informal workers are particularly vulnerable to infect themselves, as well as to the economic consequences of for example a complete lock down.
Additionally, the amount of healthcare waste being generated is increasing dramatically. Some cities are not equipped with facilities for safe treatment and disposal of medical waste, resulting in open burning or dumping of the same. This way anyone, even children, can easily access it. Cities in low to middle income countries, where waste management service provision is immature and with a high percentage of informality in the waste and recycling economy, are particularly at high risk.
Therefore, UN-Habitat (Waste Wise Cities Campaign) and the Wuppertal Institute are organizing this series of webinars, under the Urban Pathways Project, to support local governments and work together in combating COVID-19.