Air Quality Sensing powered by Citizen Science – Part 2: How can low-cost, open-source and easy-to-use AQ sensors be used?
April 8, 2020 @ 15:00

-

16:30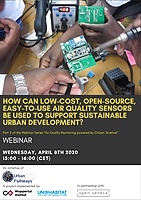 Low-cost and easy-to-use measuring devices for air quality determinants and noise, such us the one produced by open-seneca, have become available. Understanding the limitations of these type of devices in comparison to high-end exemplars regarding data accuracy and coverage, they could become an powerful way of collecting data and involving the local population while doing it.
The Urban Pathways Project is involved in several sustainable urban mobility projects in developing countries, which have a great potential in terms of improving air quality and reducing noise in urban areas. Measuring the specific effects of the demonstration activities on these variables will be invaluable in quantifying the impact of the projects' activities and thus the potential impact that replication and scaling-up of those measures could have at the local and national level, and ultimately at the global scale.
In our first webinar, open-senecaa UK-based organisation, whose goal is to transfer knowledge on how to build open-source sensor hardware to raise awareness and initiate a behavioural change among local communities, provided an online training to previously identified local makerspaces, universities or research centres in UP cities that have the skills and interest to build AQ measuring devices and that would be willing to replicate the workshops on site. In the second part of the webinar series the objective is to showcase the possible uses of this type of AQ sensors based on the experiences of projects carried out in different cities.
The collection of data via mobile AQ sensors in Buenos Aires
The use of AQ sensors to measure the impact of short-term urban interventions
The Citizen Science AQ Programme of Medellín (tbc)
Medellín's Early Warning System
---